April has been a good month for observing! The weather is finally starting to warm up, and there were several clear days mid month that were good for observing and astrophotography! Below are some pictures taken by our members. Please click on the images to see the full size versions.
The first set of pictures come from Rick Schrantz, our club President. He took some quite amazing pictures of Jupiter. Here are his notes:
"Here is Jupiter from 4-17-16. The red spot is showing (or should I say very red spot). The seeing was better than the last time I imaged Jupiter (3/26)....but still not what I would call great. I also attached another file comparing the blue images from both dates to illustrate the somewhat better seeing."
Here is another image of Jupiter taken by Rick on 4/23 within an 8 minute window of "very good" seeing: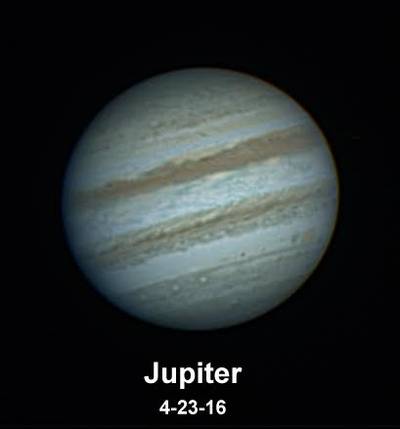 The next image is from BGAAC member Nick Miles. It is of M81 / M82, a galaxy pair in Ursa Major (some of you may know it by its asterism - the big dipper). This was taken on 4/19/2016 in Georgetown KY, with an 8" SCT telescope.